The Library of American Comics
, the arm of IDW that published 'The Complete Terry & the Pirates', recently unveiled plans to publish a Caniff art book later this year. As editor Dean Mullaney revealed to me two years ago in
our interview
, after 'Terry' he had an idea for an "Art of Caniff" book sometime in the future. With Mullaney, Caniff fan dreams become reality. Here is the
official announcement
. You may notice a photo of yours truly in the link.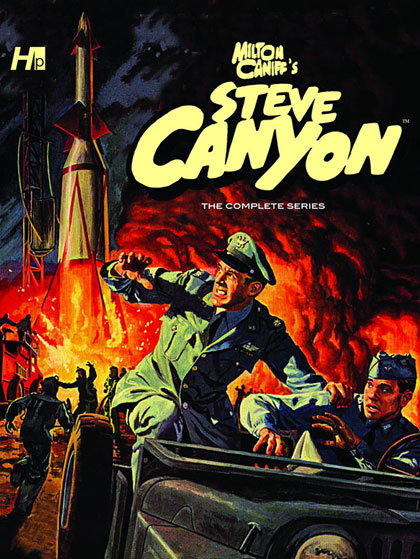 Hermes Press has made a name for itself with classic comic strip reprints and reprints of comics based on beloved TV shows. Now they are turning to the
Steve Canyon
comic books printed by Dell between 1953 and 1959. Dell published seven new Canyon adventures as part of its long-running FOUR COLOR series. These were new adventures, ghosted for Caniff by William Overgard (two issues) and
Ray Bailey
(four issues). I've seen reference that one or more of the issues had Caniff drawing the Canyon heads only, but I lack the assurance to state it positively.
Hermes also announced plans to reprint Caniff's wartime strip,
Male Call
. The strip has been collected several times, most recently way back in 1987 by Kitchen Sink. It's great to see this strip back in print, despite the misguided jacket design. Ugh.
Steve Canyon on DVD update! John Ellis of the Milton Caniff Estate continues his monumental work on completing Volume 3. Here's his
latest blog entry
in which he's recruited Bob Burns, noted film prop historian and archivist. Volumes 1 and 2 are back in stock, so order today if you don't have them already!
The National Aviation Hall of Fame announced their inductees for 2011. The recipient of this year's Milton Caniff "Spirit of Flight Award" is the US Navy Blue Angels Flight Demonstration Team. The award will be presented by the NAHF in Dayton, Ohio on July 15th. Read more
here
.
OSU has revived their humor magazine - the Sundial. Here is their
Facebook page
. As a student in the late '20s, Milton Caniff was a regular contributor and art editor. Above is a cover he did in 1927. Founded in 1911, the magazine has been defunct since the early 19'90s. More information about the revival can be found
here
.