The solicitation for 'Caniff', the art book from the Library of American Comics, was in the latest edition of Previews and is also on Amazon. This is the book where I made a contribution to the research done by Lorraine Turner and the book's editor, Dean Mullaney. Dean wrote about that experience
here
. I asked him what happened to the earlier title, "The Art of Caniff"? "I decided on "Caniff"," said Dean, "because only in comics are art books called "The Art of…." You don't see "The Art of Van Gogh" or "The Art of Rembrandt!"
Also from the Library of American Comics are the volumes of The Complete Terry & the Pirates that have been out of stock. The rarest volumes (4 and 5) have been commanding $100 and up prices in the aftermarket. It's great to see this American classic remain in print. Ask your local comics dealer!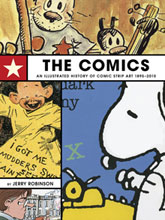 The Comics: An Illustrated History of Comic Strip Art - Jerry Robinson - This revised edition of Robinson's 1974 tome was released last month. I don't have a copy, so I can't confirm the Caniff content. But, not having Caniff would be like doing a Revolutionary War history without George Washington. Robinson, best known in the comic book world as co-creator of Robin and the Joker, was president of the National Cartoonist Society from 1967-69.
Drawing Power: A Compendium of Cartoon Advertising - Fantagraphics will release this in July. According to publisher Gary Groth, some Caniff work is slated to be part of the book. I suspect it's the work he did with Noel Sickles under the pseudonym "Paul Arthur", primarily Mr. Coffee Nerves (which I wrote about
here
). The co-editor of the book is Rick Marschall, who reprinted the Coffee Nerves strips in 1990 in a Terry & the Pirates book.
Leif Peng - Peng is a Canadian cartoonist and illustrator who also has a blog called "Today's Inspiration", which celebrates the work of cartoonists and illustrators through high quality scans of their work. In doing so, he has built up and shared what is likely the best online resource of Noel Sickles art. If you love the work of Caniff's pal Sickles as much
as we do
, Peng's site will amaze and delight.
Today's Inspiration
http://todaysinspiration.blogspot.com/search?q=sickles
Cartoon Limbo - The Prallsville Mills, an historic site in Stockton, NJ, is hosting an art exhibit called
Cartoon Limbo
. The theme of the exhibit is rejected drawings of famous cartoonists. According to the press material, there is a Caniff item, though I don't know what. Other artists represented include Carl Barks, Charles Schulz and Crockett Johnson.