Artist/writer Dave Sim pays homage to Milton Caniff in the latest issue of his oddest comic work yet!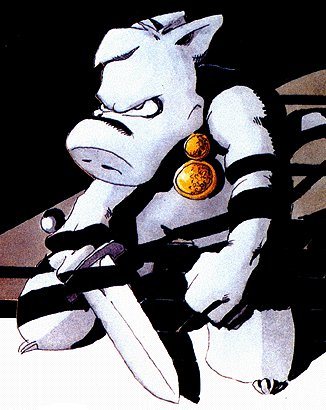 Dave Sim is the creator of
Cerebus
, a 300 issue comic book epic that he published himself over a 28-year period. While monthly sales figures only numbered a few thousand, it's a legendary feat in the world of comics, one that has never been done before nor doubtfully ever again (the issues have long been available in collection form, available
here
) Cerebus was a drama, hilarious at times (like all good dramas), but on the whole a serious work (taken too seriously by some, witnessed by the impassioned letters that filled the back of each issue, many replete with intellectual folderol). So it was with bemusement and skepticism that the public met Sim's announcement late last year that his next project would be called 'Glamourpuss'.
Beyond the the title, readers were further confused by the
official website
, which makes you think 'Glamourpuss' is a comic about women's fashion, a non-existent comics market. Information soon dribbled out that the comic was to be the strangest hybrid since Tina Turner and Kate Smith joined Cher for a
Beatles medley
. The theme of 'Glamourpuss' combines Sim's photo-realistic fashion drawings with his examination of photo-realism in comics, typified by Alex Raymond's art on the
Rip Kirby
comic strip. Sim, a devoted artist who has written treatises on pen nibs, painstakingly recreates fashion photos as well as comic strip panels. Along the way, he infuses the model drawings with fumetti-esque humor and the comic panels with artistic insight.
Milton Caniff, my favorite
blogging topic
, figures heavily in issue #2. Sim explores the influence of the "big three" comic strip artists: Raymond, Caniff and
Hal Foster
. These are the names most cited as influences by any artist who lived during the 1930s. Sim describes Caniff's style as "cartoon realism", placing stylized figures against photo-realistic backgrounds. Sim also recreates three 'Terry & the Pirates' panels and draws three pictures of Caniff, like the reproduction of this famous AP photo [click on it for larger view] -
Sim made a short video explaining his process for reproducing a photo of a fashion model. We get a look inside Sim's studio and his dry delivery cracks me up.
GLAMOURPUSS is on sale at your local comics shop. It's not the kind of comic that stores order a lot of, so if you don't see it, just ask!